BART═KOV┴ Hannah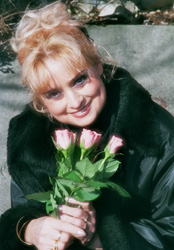 I was born in 1954 in the scenic south of Bohemia, where I spent my childhood. Probably it was the time the trees surrounding me were forever inbedded in my memory. Being fascinated with their form, size and strength I was often drawn into their friendly shadows, although sometimes the spookiness of their branches impassibility was my nightmare.Most of those trees now appear in different forms in my pictures.
I spent my lovely juvenescence in LibŔice upon the Vltava river. After finishig the basic nine year school there, I continued studies in Prague which further removed me from my art. After secondary economy school, I studied interpretation and translation in the Charles University under the guidance of the Pedagogy Faculty. This specialization has caged me forever in the foreigh trade sphere, which I have been working ever since.
Actually my studies with the Prague Psychological Faculty, which I started to attend for a personal interest some years ago, have opened a path to painting for me. I have completed studies in many different therapies, only recently discovering art therapy, an effective treatment by art. I couldn┤t believe that me, who always relied on words as the only means of communication, would be able to express myself in other way.
With the first diffident mandalas, which I painted secretly in seclusion, I discovered something about myself which I had never known. Soon after the mandalas circular form became too confining for me, thus began the avalanche of colours and fascinating forms. Surprised by my new ability, I was often painting through the nights not able to contain my enthusiasm.The feeling was so over-whelming, I could not aclimate myself to the special freedom that is art creation giving.
My paintings are real and candid, they don┤t include vanity nor irrationality. I want them to be tranquil animate and cordial. I don┤t create them, vice versa, I look around and they find me. I need only to remember them and meld them into my artwork.
Painting became my personal happiness!